The Music Industry: How Everything Is Changing Yet Nothing Is Happening – Or Why The iTunes Business Model Has Only Accelerated Previous Trends
Introduction
The internet has changed everything. It has changed our perceptions and methods of communication. It has changed the most profoundly fundamental aspects of our lives. And while it may not be exactly clear how our lives are changing, one thing is certain: media industries have undergone their most sudden change in history. Once-established and extremely profitable industries have been forced to adapt to the rapidly and constantly evolving digital world. Not only have industries been incapable of adapting in a timely manner, but have also been reluctant to. At many times this has lead to missed opportunities and tremendous losses.
One such example is the music industry. In the year 2000, at its peak, the recorded music revenue in the US was measured at $71 billion – in 2009, revenue was down to $26 billion, a decrease of over 60%.[1] Pinpointing the exact demise of the industry is difficult as a number of new developments occurred simultaneously. Firstly, 1998 marked the emergence of illegal peer-to-peer (P2P) networks such as Kazaa and Napster. As digital music files could be copied and distributed freely over the internet, purchasing hard-copy CDs (the predominant – and highly lucrative – medium at the time) was not only no longer as appealing, but not necessary. While data supporting the complex relationships between file-sharing and its effects on legal purchases are conflicting, it is of no coincidence that the industry peaked and began its very rapid decline two years after the emergence of P2P networks. However, P2P networks were not the only changing factors for the industry: legal alternatives also played a role.
On April 28th 2003, the iTunes Music Store was launched by Apple, marking a groundbreaking step towards the appeal of legal music downloads. Within five years of its release, the iTunes Music Store became the number-one music vendor in the United States and in less than seven years, over ten billion songs had been purchased from it. Last year, I wrote a paper called "The iTunes Business Model and its Widespread Effects"[2] in an attempt to detail the rapidly changing music industry. In short, as successful as iTunes has been, no one is really benefiting from it other than Apple, indirectly. Each song is sold at $1.29 (previously 99¢) and is then divided: 60¢ goes to the label, 40¢ to Apple, 20¢ to the artist and 9¢ to the songwriter.[3] While Apple receives 40¢, most of this is used to pay the 25¢ credit card transaction fee. Apple has devised a system in which transactions are delayed by a few days to bundle payments together, therefore paying only one transaction fee for multiple songs. Despite this, users usually purchase only single songs and iTunes never sees relatively large profits. The downfall of the music industry is not only attributed to P2P networks, but also to an indirect consequence of the MP3s: the majority of purchases has shifted from albums to singles.
Even so, Apple is not interested in profiting from iTunes. Instead it uses iTunes as a marketing tool for physical Apple products which are highly profitable (there's a reason iTunes integrates more seamlessly with iPods and iPhones). While no party directly benefits, or really profits, from iTunes, I felt that in my essay, there was a beneficial trade-off for both artists and consumers alike. The internet, and iTunes specifically, has given artists instant global distribution allowing them to reach niche markets like never before. It has given artists the freedom to bypass established markets and to reach fans directly. It also gave listeners the freedom to choose. I felt the internet was a democratizing force in music, a tool of empowerment. It offered a decentralized alternative model as opposed to the corporate monopoly so heavily enjoyed by large music labels; it removed the necessity of gatekeepers, that is large music labels, and gave responsibility back to those most important: artists and fans. Unfortunately, this was wishful thinking.
The Long Tail: The Changing Rules of the Markets Brought Upon by the Internet
A key concept I based my research on was the "long tail theory," popularized by Chris Anderson in his 2004 Wired magazine article "The Long Tail."[4] In short, Anderson's theory revolves around the retailing concept of "the niche strategy of selling a large number of unique items in relatively small quantities – usually in addition to selling fewer popular items in large quantities." Previously, off-line retailers had limited physical shelf space, therefore stocking only what was believed most likely to sell. The largest of off-line music stores typically stocked about 15,000 albums. As of January 20th 2010, the iTunes catalogue held over 18 billion songs.[5] As Anderson put it, "far too long we've been suffering the lowest-common-denominator fare, […] subjected to manufactured pop. Why? Economics. Many of our assumptions about popular taste are actually artifacts of poor supply-and-demand matching – a market response to inefficient distribution." (Anderson October 2004)
Anderson put forth two important ideas (the following chart demonstrates the Long Tail graph). Firstly, because digitized distribution costs approach zero, the tail can be extremely long. His second idea is that "online channels actually change the shape of the demand curve, because consumers value niche products geared to their particular interests more than they value products designed for mass appeal."[6] Anderson predicted that as more obscure products are made available and consumers discover products better suited to their tastes, the tail would become longer and fatter.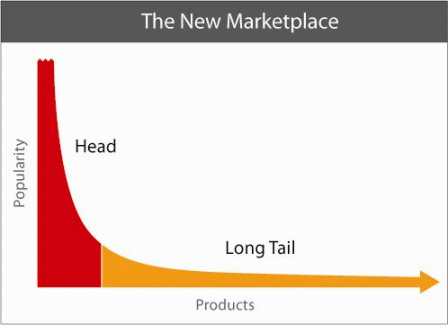 Anderson's theory was further developed in a book titled The Long Tail: Why the Future of Business is Selling Less of More, published in 2006. It immediately received widespread attention. In a 2008 Wall Street Journal article, Lee Gomes wrote that "the book has been something of a sacred text in Silicon Valley."[7] Gomes continued describing the Long Tail as one of those books that appears periodically "and demand that we rethink everything we presume to know about how society works. In this case, the Web and its nearly unlimited choices were said to be remaking the economy and culture." (Gomes July 2008)
Not only did the Long Tail propose new paradigms and business strategies, but part of its success was due to the fact that business plans seeing only modest commercial prospects cited the Long Tail to justify themselves (Gomes July 2008). However as Anderson's theory gained popularity, so too did research testing to see whether the theory held any credibility.
While hearing the same music and seeing the same artists topping charts should have been enough of a warning to myself in curbing my naive hopes that the internet was in fact "democratizing" music, it wasn't until seeing actual studies that I realized how far from the truth I actually was. But before I get into further details, I would first like to look at how markets normally function to eventually understand just how radical the changes were that the Long Tail proposed.
The Blockbuster Strategy: A Time-Honored Approach
In media and entertainment sectors, "with limited space on store shelves and in traditional distribution channels, and with retailer and distributors seeking to maximize their returns, producers have tended to focus their marketing resources on a small number of likely best sellers."[8] While this strategy does hold substantial risks, producers expect that an occasional hit's enormous pay-off will cover the losses of many misses. "A few big sellers will bring in the lion's share of revenues and profits." (Elberse July 2008) Quite simply, we are exposed to what is most marketed; what is most heavily marketed is what is believed to be most likely to sell. Anderson describes the "lowest-common-denominator fare" as appealing to the masses. The economic necessity for rapid return of capital investment is how the media industries, or as Theodore Adorno named them, "culture industries," function. Media industries profit most from selling sameness.
In their 1995 book, The Winner-Take-All Society: Why the Few at the Top Get So Much More Than the Rest of Us, authors and economists Robert Frank and Philip Cook offer three explanations as to why "broad, fast communication and easy replication create dynamics whereby popular products become disproportionately profitable for suppliers, and customers become even likelier to converge in their tastes in buying habits:"[9]
Lesser talent is a poor substitute for greater talent. Minuscule advantages over  competitors can be rewarded by an avalanche of market share.
People are inherently social, and therefore highly value in listening to the same music and watching the same movies that others do.
When the insignificant cost of reproducing and distributing products is small (as it definitely is with digitized goods), the cost advantage of a fast seller is enormous.
I strongly disagree with the first point in its relevance to music, however my reasoning further justifies the second. While minuscule advantages do offer the possibility of a disproportionately large market share, talent in the arts is not quantifiable and is largely subjective. To say that artist X is more talented than artist Y because X sold more copies than Y is false. The enjoyment of popular music comes not from a belief that popular artists are necessarily of a higher talent, but from the shared experience of appreciating the same thing.
These three factors have lead to what we know today as the "superstar effect," where a field's few top performers pull even further away from the pack. For example, in 2010, of the 670 movies released in theaters, accounting for $10,463,406,858[10] sold in ticket prices, the top 10 grossing movies accounted for roughly 30% of that income. Simply speaking, 1.5% of all 2010 movie releases accounted for nearly a third of all revenue. The same phenomenon has developed in the music world as well.
The Myth of the Long Tail
Two years after Anderson's book was published, Harvard Business Review writer Anita Elberse had concluded her research and wrote an article titled "Should You Invest in the Long Tail?"[11] Using data from Quickflix, an Australian DVD-by-mail rental service, and Rhapsody, "an online music service that allows subscribers to choose from a large database of songs for a fixed monthly fee (and which Anderson cites often in The Long Tail)," (Elberse July 2008) Elberse's research proved incredibly insightful.
In short, she asked herself how sales volumes stacked up when selection is vast and easy: do they skew toward the head of the distribution curve or toward the tail? Her findings were clear with an extremely high level of concentration. In Rhapsody, "the top 10% of titles accounted for 78% of all plays, and the top 1% of titles for 32% of all plays" and in Quickflix "the top 10% of DVDs accounted for 48% of all rentals, and the top 1% for 18% of all rentals." (Elberse July 2008)
Using data reported by Nielsen VideoScan from January 2000 to August 2005, Elberse found that while the number of titles that previously sold only a few copies nearly doubled, in the same period, the number of titles with absolutely no sales quadrupled. "Rather than bulking up, the tail is becoming much longer and flatter." (Elberse July 2008) Furthermore, her research indicated that the number of titles in the top 10% dropped by more than 50%, meaning an increase in concentration that is common in "winner-take-all" markets. Much opposing to what Anderson predicted and I had hoped for, "the importance of individual best sellers is not diminishing over time. It is growing." (Elberse July 2008)
Contrary to what I had believed and used as a main focus in last year's essay, digital distribution has far from democratized music or other media, it is in fact strengthening the position of a select group of winners. The internet is not democratized, it is dominated by a select few. Despite tremendous losses in revenue, big labels are doing better than ever in terms of popularity.
The Value of Niche Content
It is this part of the research that I found most conflicting, as I consider myself a "crate-digger," someone who finds great pleasure in searching on my own terms and discovering "rare musical gems." Because I exclusively listen to niche content, it was extremely easy for myself to see justification in the Long Tail. However, it is important for me to understand that I am part of a minuscule minority. Consumers such as myself hardly have any effect on the long tail.
The delight that comes from discovering a "'rare-gem,' perfectly tailored to our interests and ours to bestow on likeminded friends" (Elberse July 2008) is an extremely romanticized generalization of Long Tail thinking. Unfortunately, individual consumer tastes are far less developed than Anderson and I would have hoped for. This comes back to The Winner-Take-All Society's second argument: people are inherently social and highly value listening to the same music as others. It is impossible to deny this – much of music's appeal is the shared experience. "We like experiencing the same things that other people are experiencing – and the mere fact that other people are experiencing and liking something makes use like it even more. Far from being cultural rugged individualists, most of us are only too happy to have others suggest to us what we'd like." (Gomes July 2008) While Gomes takes a more encouraging outlook on the appeal of mass culture, Adorno would have labeled this as the extensive manipulation of the consumer whose intellectual capacity is constantly underestimated.
As mentioned earlier, media industries benefit disproportionately highly from the profusion of sameness. From the producer's side, there is less risk involved. Why create an entirely new project when I will have guaranteed success from a sequel? This brings us back to The Winner-Take-All Society's third point: "the cost advantage of a fast-seller is enormous. From the audience's perspective, consumption of what is familiar is easiest. Unfortunately, it seems that Anderson not only greatly overestimated the personal value of niche content, but also misunderstood who most heavily consumes it.
Consumers of Niche Content
Is it just a small group of fanatics, or are large numbers of consumers regularly venturing into the long tail? As Elberse asks, "Is most of the business in the long tail being generated by a bunch of iconoclasts determined to march to different drummers"?  Quite simply, the answer is no. Using data from Quickflix, Elberse discovered that there was no segment of users who had a particular taste for the obscure. Instead, it was the customers with a large capacity for content who ventured into the long tail. Meaning heavy users primarily consumed hit products but were also most likely to venture into the long tail. Light users consumed largely hit products. Hit products were also rated disproportionately higher than obscure ones.
Elberse's findings are what was originally described by William McPhee in the 1960s in Formal Theories of Mass Behavior. McPhee's "theory of exposure" offered two relevant generalizations:
1.  A disproportionately large share of the audience for popular products consists of relatively light consumers, whereas a disproportionately large share of the audience for popular products consists of relatively heavy consumers. McPhee named this a "natural monopoly" as hit products "monopolize" light consumers. (Elberse July 2008)
2.  Consumers of obscure products generally appreciate them less than they do popular products: "the larger the proportion of the people [unfamiliar] with a given alternative,… the less likely are those who are familiar with it to like it especially."Niche products have a double disadvantage, which McPhee calls a "double jeopardy." Firstly, they are not well known; second, when they become known, it is by people who "know better" and prefer the popular products. (Elberse July 2008)
The "natural monopoly" theory is consistent with Adorno's beliefs on mass culture. As consumers of popular products are largely "light users," we are all reduced to the "lowest common denominator fare." Even "heavy users" who are aware of obscure alternatives cannot escape the natural monopoly because of the "double jeopardy" aspect.
Double Jeopardy and The Paradox of Choice
An interesting concept that comes into play is "the paradox of choice" developed by Barry Schwartz in a 2004 book The Paradox of Choice: Why Less is More[12] (also presented in a Ted talk),[13] inspired by the ideas of Jose Ortega y Gasset's The revolt of the masses. While Shwartz's argumentation deals primarily with physical consumer goods, the ideas are still applicable to the consumption of music: there is an overwhelming amount of music all competing for attention from a finite number of listeners.
As he puts it, the official Western dogma, that of industrialized societies, is to maximize the welfare of citizens. The way to do this is maximize individual freedom and maximized freedom leads to maximizing choice, creating more welfare. This has led to an explosion of choice, producing two negative effects:
1.  Overwhelming choice produces paralysis rather than liberation. With so many options to choose from, people find it increasingly difficult to choose at all.
2.  Even if we manage to overcome the paralysis and make a choice, we end up less satisfied with the result of the choice. It is easy to imagine another choice would have been better. Regret subtracts from the satisfaction of the decision even if it was a good decision.
Given such freedom to choose, not only do we become paralyzed and ultimately less satisfied, but the burden of choosing becomes a personal responsibility: "only I am to blame if I am unhappy with my choice." This has made our reliance on the gatekeepers more important than ever: there is too much content to sort through on our own, too much being released to listen to. Despite advanced search and recommendation tools, it is far more comforting to be guided by content providers (artists and labels) we are already familiar with and trust. It is much easier to listen to the gatekeepers than attempt to overcome paralysis. And in our increased reliance on the gatekeepers, we also avoid holding any responsibility for any discontent with music releases. Combine the paradox of choice with McPhee's theory of "double jeopardy" and the appeal of niche content becomes nearly nonexistent. Anderson overestimated the value in cultivating individual tastes because our culture thrives on sameness, the recycling of known successes.
Anticipated Production Rates
As online channels lower the barriers to market entry, they "also lead to a flood of products all competing for consumers' attention." (Elberse July 2008) Because of the digitization of musical production, anyone with a computer can create music. Simply put, there's just too much crap being made. As Stefan Goldmann wrote in his online article  Everything popular is wrong: making it in electronic music despite democratization,[14] from an artist's perspective it is impossible to get noticed nowadays. From a listener's perspective, there's too much to choose from and as such, sorting through all the bad to get to the good requires too much effort.
Goldman's frustration demonstrates another fundamental flaw in Long Tail thinking and is supported by Elberse's research: "As the share of digital units grows month by month, so does the degree of concentration in sales." (Elberse July 2008) Even if niche consumption greatly increased, the rate of production is so much faster than that of consumption that a "fattening" of the tail would be overpowered by its lengthening (and eventual flattening). With so much content being created, the tail lengthens and flattens.
This creates an interesting mathematical property that leads to false conclusions, that more hits are being made. As digital units grow, too much inventory is created and therefore ignored: this further skews consumption concentration to the head. Assuming 10,000 songs were released in 2000 (let's use fake numbers for the sake of math) the top 100 songs would account for 1%. Now let's say those 1% of songs accounted for 30% of all plays. Assuming tastes remain similar and now 100,000 songs were released in 2010, the top 100 songs would account for 0.1%. Now, 0.1% of songs account for 30% of consumption. Thankfully, it is not necessarily that the number of hit songs are increasing, just their relative proportion.
Carrying Old Habits Over Into New Markets
The music industry is vastly changing and scrambling to find stable sources of income, yet our consumption habits have remained much the same. In many ways, the internet's rapid means of communication has only exacerbated the "superstar effect." The internet has created an unprecedented channel of instant distribution. This has had an exponential effect on the pleasure of shared experiences. Or to put it more bleakly, the internet has become a new platform facilitating the profusion of sameness.
Democratization is an illusion, a glorious one at that. The internet has become a distribution channel not unlike those previously in existence. It has been monopolized, and the data is incontestable. While the digital revolution may have democratized the production of content, limited traditional distribution channels dominated by monopoly holders such as radio and television remain the predominant method of marketing content. This influence has carried over into the digital world as navigating the overwhelming amount of content on our own is too much of a burden.
Normally, I would attempt to end on a more positive note. I would argue that as the pervasiveness of the internet increases, so to does our consumption of content. As more and more users could potentially become "heavy users" curious to venture into the long tail, there might be a more substantial shift in interest in niche content. As there exists a finite number of "hit products," it is unwise for a business to stock only hits – this model offers no advantage over competitors. I would argue that competition amongst content providers would lead to innovation and possibly more interest in the long tail.
But the reality is, we're screwed. As I write this, the media industries are lobbying for the SOPA (Stop Online Piracy Act) bill to be passed. The mere fact that the bill has come into existence demonstrates that media corporations are more powerful than ever.    Quite simply, the extremely vague definitions proposed in the bill mean the ramifications could be huge. The bill grants further control to copyright holders and allows for them to censor sites they fear are illegally distributing copyrighted material, meaning sites such as YouTube, SoundCloud, Grooveshark, the potential sources of niche content, could be targeted. Scrambling to halt their declining sales, the best idea the media industries could come up with is an indirect attempt at upholding their current monopoly by stifling competition. The internet still holds potential, as small as it may be. But if SOPA passes, all hope vanishes.
---
Related Posts: